If we were watching a lot of old movies before, the Tivo we got for Christmas is enabling us to watch even more.
I think in the past when I heard too much about a particular iconic film, I tended to discredit it in my mind. I guess it became cliched for me. I'm learning to get past that (lesson #1), as I've seen some really great films lately that I ignored in the past.
Two such films are Cat on a Hot Tin Roof and The Hustler–both Paul Newman films, now that I mention it. Cat on a Hot Tin Roof is over the top, but it's supposed to be. It's Tennessee Williams, and I tend to really like Tennessee Williams. Some of the characters annoy me, and some of the performances annoy me, too. But I think they're supposed to annoy me. Part of the fascination for me has to be that I saw this film for the first time in December, and I couldn't get over the fact that it stars Burl Ives–and he's really pretty darn good. I didn't know that Burl Ives was in films. I'm a fool, of course, because he was in lots, including other adaptations of dramatic literature (Desire Under the Elms, East of Eden). So that's lesson #2.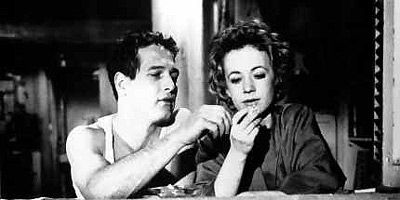 The first time I really saw a significant chunk of The Hustler, I tuned in when Eddie (Newman) has already hooked up with Sarah (Piper Laurie). I think my ignorant view of this film had been negatively impacted by the fact that its 1986 sequel stars Tom Cruise and has a 1986 soundtrack (Don Henley, Robert Palmer, Phil Collins, Mark Knopfler–you get the idea). I didn't realize that Piper Laurie was even in the movie–didn't know about that part of the movie, or about George C. Scott's role. Well… duh. For me, that right there is the best part of the film. It's another sort of over-the-top one, but I kind of love it. Laurie and Scott are both great in it, and it has tons of atmosphere. Doesn't hurt in my book that it's 1961, either (got to admit the positive biases along with the negative ones). I think Ezra, being a Twin Peaks fan, got a kick out of seeing Piper Laurie in it, too. Needless to say, I've now seen the whole film from beginning to end. It's quite dark, and not in the silly way that I thought it might be. To me, the fact that Eddie plays pool is really not the point. The emotional stuff, the stuff about self-worth and self-loathing (and more)… that's all more interesting to me.
I'd never seen a Bette Davis film before, either–really! That was another case of something too-over-hyped, and I'd never seen the proof that she was this great actress "everyone" said she was. Well, I've seen three films over the last several months that have changed my mind about Bette Davis.
The first I saw was The Petrified Forest, a 1936 film starring Davis, Leslie Howard, and Humphrey Bogart and based on a Robert E. Sherwood play. I think I'd always seen pictures of Bette Davis in All About Eve–a later picture–so it was new for me to see her in a role where she was supposed to be very young and beautiful. Davis, Howard, and Bogart are all quite good, as is much of the supporting cast.
Next I saw June Bride. I'm not sure what made me Tivo this one, but I'm glad I did. It's one of her few comedies–a light and witty 1948 romance with Robert Montgomery (another discovery–thanks TCM!). In it, Davis plays a smart, independent women's magazine editor. Montgomery, a writer and an old flame, is assigned to work with her on the magazine when opportunities for him as a foreign correspondent dry up after the war. They take their crew out to Indiana to cover a charming June wedding–in February. It's fluff, but it's good fluff, and their banter is pretty great (I hear they weren't too palsy off-screen). My only gripe–the ending could have been handled differently. Though it wasn't unexpected, it was still a disappointment. Supporting actress Mary Wickes (she played Emma in White Christmas and has lots of other films and TV roles to her credit) shows up in this one, too.
In fact, she's also in the other Bette Davis film I just saw–the best of the bunch–Now, Voyager. It's quite melodramatic and there are so many heart-breaking goodbyes–between the same two people!–that as a viewer you sometimes feel emotionally tormented along with them. But, you suppress cynicism (at least I did) with no trouble and you're rewarded for it. Ez and I turned this one on at 11:00 one night. I thought we'd just have a peek and watch the rest some other night. Ha ha–fat chance. There was no convenient place to stop, and I didn't want to. It sucked me in! Bette Davis plays Charlotte Vale, an unmarried woman in a distinguished Boston family, a late daughter of an awful, controlling mother (played with loads of venom by Gladys Cooper) who keeps her from having any sort of a life. Charlotte spends a few months in a sanitarium under the care of Dr. Jaquith (Claude Rains) who helps her become her own person. She then goes on a cruise and slips into a wonderful romance with the married Jerry Durrance (played fantastically by another Casablanca alum, Paul Henreid*). When she returns to her family after the cruise a new person, their shock and her reaction are delicious.
But the movie doesn't stop there. Charlotte and Jerry cross paths again and again. Anyway, if you haven't seen it, I can't give it all away (though it's one of those movies that a lot of people probably know about even without having seen it). It's clearly taken from a novel (I'd love to read it), and a lot happens. There are some great smoking scenes. That's another thing I've discovered–Bette Davis was one hell of a smoker. She smokes like a chimney in June Bride and she and Henreid share some rather intimate cigarettes in Now, Voyager. Anyway, go see that one.

*OK–technically Now, Voyager was released in the US about a month before Casablanca.